THE NEXT PROJECT !
THEY DIDN'T MAKE IT ……………..
While every Swindon Town player who made a first team appearance now appears in print, there were many who didn't quite make the grade. There are some 2,000+ reserves and trialists included in this category and work started in 2016 to collate career data for them and to eventually include them in their own section on this website.
Watch this space as they say !
SAM ALLEN (1868-1946)
POVERTY STREET
New Years' Day 2016 marked the 70th anniversary of the death of SAM ALLEN - who served as Town's secretary-manager for over thirty years.

A man with forthright views on the game, Sam was never shy in illustrating the plight of lower League clubs like Swindon and he became well known and well respected in the football fraternity.
During his long term of office, Sam had many articles published - not only in the Swindon press, but country wide.
Below is a piece that appeared in the South Shields Football Gazette in November 1927.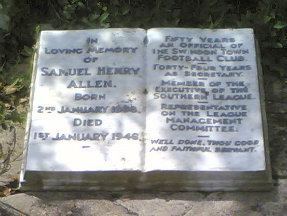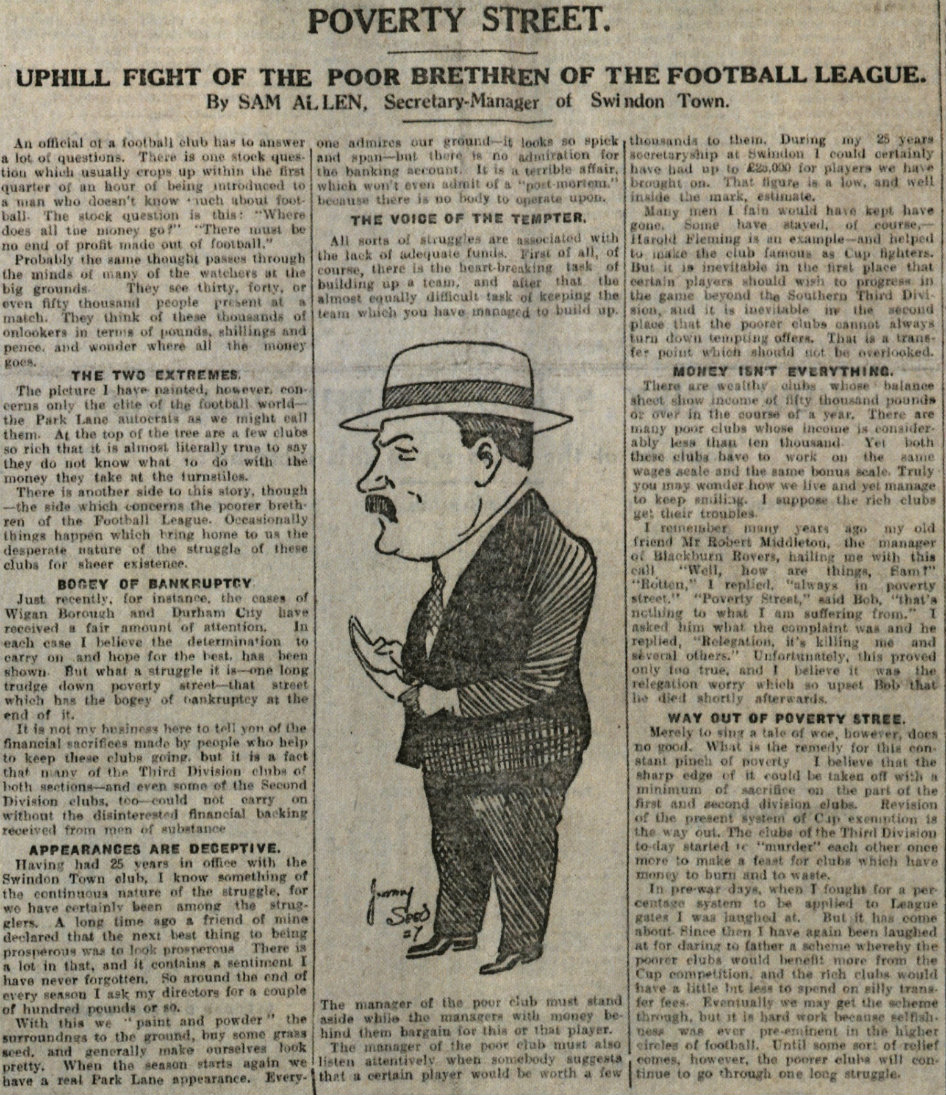 THE BOYS OF '64
In 2014, it was fifty years since Swindon Town enjoyed a first ever season in the second tier of League football - a season that had started in excellent fashion with nine games undefeated. But while the first team had their moment of history, Town's youngsters were making history of their own - by reaching the final of the F.A.Youth Cup for the first - and so far- only time.
DON ROGERS

Position : Winger
Born : Old Mills, Somerset 25 Oct 1945
STFC Career : Apprentice - Dec 1960, Professional - 31 Oct 1962 (411+1 Lge apps., 76+2 Cup)
Don had already made more than 50 first team appearances prior to the Final, having stepped up for his League debut against Southend (pictured) a fortnight after signing a pro contract. Returning to League action after the Final, he racked up 176 consecutive appearances and in three seasons from 1966 to 1969 hit an astonishing 90 goals for the club. His 180 in total for Town was surpassed by only two players - Harold Fleming and Harry Morris. Don gained two England under-23 caps.
His former County Ground boss, Bert Head, signed him for Palace in a £147,000 deal at the end of October 1972 but he returned to Swindon in March 1976.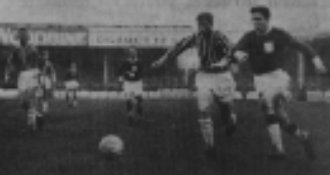 Don was to become a household name around Swindon, but who were his teammates in that Final and how did their careers progress ?



TONY HICKS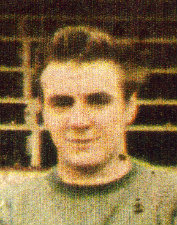 Position : Goalkeeper
Born : Swindon 20 Sep 1945
STFC Career : Groundstaff - Apr 1961, Apprentice - Oct 1961, Professional - 1 Oct 1962 (51 Lge apps., 13 Cup)
Tony had made just one first team appearance prior to the Final, in a 3-0 win over Southend in the League Cup in October 1963, but made 27 League appearances in 1964/65 following an injury to Norman Oakley on the opening day. Tony returned to reserve team duty after the arrival of Peter Downsborough but he played in all but one of Town's eight F.A.Cup ties in 1966/67 while Peter was sidelined with cartilage problems.
Tony was released at the end of the season and dropped into local football with St Josephs, Gorse Hill, Park and M & B Rangers.



TERRY LING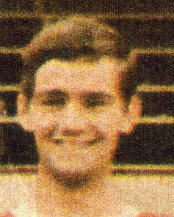 Position : Full-back
Born : Salisbury 1946
STFC Career : Apprentice - Aug 1962, Professional - 21 Sep 1964
Terry represented Wiltshire at schoolboy level, while at Adcroft in Trowbridge. He joined his home town club after being released at the County Ground, but stayed in the game just two seasons.
He was employed in the salmon fishing industry on the west coast of Ireland, but later returned to Salisbury to run a market stall.




BRYAN FOSCOLO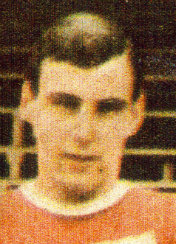 Position : Full-back
Born : Pontypridd 1945
STFC Career : Professional - 17 Oct 1963
Bryan was the only member of the side to be brought in from another professional club, having served an apprenticeship with Chelsea. He was released in 1965, joining Cambridge United and then Cheltenham Town. Personal tragedy struck in March 1967 when his wife Claire died at only 19, after which he returned to South Wales.






BERNARD GRIFFIN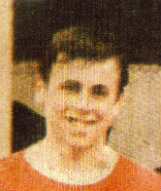 Position : Wing-half
Born : Merthyr Tydfil 11 Mar 1946
STFC Career : Professional - 3 Dec 1963 (released May 1966)
Another Welshman, Bernard remained with Town for a further two seasons until being released at the end of 1965/66.
He then went to South Africa, signing for Arcadia United.




ROGER BROWN
Position : Centre-half
The only amateur in the side, Roger gained County youth caps for Wiltshire and Somerset. He was fortunate enough to go to one of the few schools to play soccer in Bath - West Hill. From there he progressed to Western League football with Bath City, then on to Trowbridge. While still with the Frome Road club, Roger played in Town's Youth Cup final side. In January 1966 he turned down an offer of a professional contract at the County Ground to stay with Trowbridge and later played for Paulton Rovers. Roger continued to live in Bath and was a plumber by trade.

'NAT' PROSSER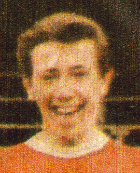 Position : Wing-half
Born : Hampstead, London 12 Nov 1947
Died : Tetbury, Glos. 18 May 2014
STFC Career : Apprentice - Dec 1962
'Nat' - real name Dennis - looked to have a bright future in the game, but in a third team game at Clandown in January 1965 he suffered a badly broken leg from which he never fully recovered. Thirteen months later his contract at the County Ground was terminated.



DENNIS PEAPELL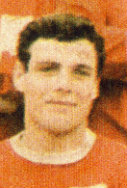 Position : Forward
Born : Highworth 16 Nov 1945
STFC Career : Apprentice - Oct 1961, Professional - 27 Nov 1963 (2 Lge apps.)
Dennis played in all eight Youth Cup games that season, scoring in both legs of the semi-final against Rangers. His League debut was one to forget - a 0-5 thumping at Portsmouth and his only other senior game for Town was also away, at Bolton. After leaving the County Ground, Dennis had four clubs in as many seasons - Exeter, Bideford, Trowbridge and Andover. He later switched codes and turned out for Swindon Rugby Club !



DICK PLUMB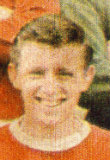 Position : Centre-Forward
Born : Swindon 24 Sep 1946
STFC Career : Apprentice - May 1962, Professional - 28 Dec 1963
Ex-St Josephs School, Dick made his mark in Town's Wilts Premier League side - and hit five goals in an 11-0 away win at Chippenham Town in March 1963. He signed for Bristol Rovers on 1 May 1965 and later joined Yeovil and Charlton.


RICKY TABOR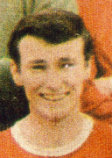 Position : Forward
Born : Springhill, Nova Scotia 6 Nov 1946
Died : Oxford 5 Dec 2019
STFC Career : Apprentice - Mar 1962, Professional - 16 Nov 1963
Spotted while playing for the Abingdon Town youth team, Ricky signed amateur forms at the County Ground in February 1962 after scoring four goals in a 5-1 Wessex Youth League win over Oxford and started an apprenticeship just six weeks later. Released in the summer of 1966, he had two unsuccessful trials at Bournemouth and Reading before embarking on a long career in non-League : Gloucester City (Sep-Oct 1966,6 apps), Cheltenham Town (trial Oct-Nov 1966,2 apps), Oxford United (trial Jan-Feb 1967), Morris Motors, Witney Town, Oxford City, Thame United, Abingdon Town, Abingdon United, Clanfield and Didcot Town.
BRUCE WALKER

Position : Winger
Born : West Woodhay, Berks. 27 Aug 1946
STFC Career : Amateur - 19 Jul 1962, Professional - 3 Dec 1963 (26+3 Lge apps., 10 Cup)
Signed from Hungerford Town, Bruce will always be remembered for his stunning strike in the dying moments of Town's F.A.Cup Fifth Round replay in March 1967 that took the tie into extra-time. He joined Bradford City a year later, before making subsequent moves to Exeter, Hereford, Nuneaton (loan), Margate and Newbury. He ended his career as player-manager at Kintbury.
….. And the others who assisted Town on their way to the Final were :
BARRY DENTON (b.Yorks 1945) played in the first four rounds, scoring twice. Previously with Sheffield Wednesday, he signed pro forms for Town in November 1963 but was released on a free transfer at the end of the season.

JIMMY JAMES
JIMMY JAMES (b.Chippenham 1946) appeared in the victories over Portsmouth and Brighton in the opening two rounds and scored in both. Signed from Malmesbury, he joined the pro ranks in September 1964 but left for his home town club in the following summer.


RAY MILLER
RAY MILLER (b.Bath 23 Apr 1946, d.Swindon 21 Oct 2011) opened the scoring against Plymouth in the Fourth Round in his only appearance in the competition. Handed a pro contract in November 1963, it was cancelled at the end of the first year. Ray later played for St Josephs.


PETER RAWLINGS (b.Amersham 1946) took Nat Prosser's place in the Plymouth tie. An amateur, Peter previously played for Upavon YC and Oxford City.


F A YOUTH CUP PROGRESS 1963-64 :
Second Round : Dec 16 Portsmouth 4 SWINDON TOWN 5 (Walker,Plumb,Tabor,Rogers G o.g.,James)
Third Round : Jan 28 Brighton & Hove Albion 2 SWINDON TOWN 4 (Walker,Denton,Plumb,James)
Fourth Round : Feb 11 SWINDON TOWN 4 (Miller,Peapell,Rogers 2) Plymouth Argyle 1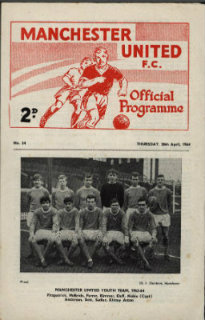 Quarter-Final : Mar 10 SWINDON TOWN 2 (Griffin,Denton) Arsenal 0
Semi-Final 1st Leg : Apr 8 Queens Park Rangers 0 SWINDON TOWN 2 (Rogers,Peapell)
Semi-Final 2nd Leg : Apr 14 SWINDON TOWN 4 (Rogers,Tabor 2,Peapell) Queens Park Rangers 1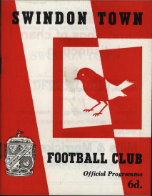 THE FINAL :
First Leg : Apr 27 County Ground - Att: 17,000
SWINDON TOWN 1 (Rogers 31)
Manchester United 1 (Best 70)
Second Leg : Apr 30 Old Trafford - Att: 25,563
Manchester United 4 (Sadler 45,47,70,Aston 87)
SWINDON TOWN 1 (Walker 68)
THE PINK PROJECT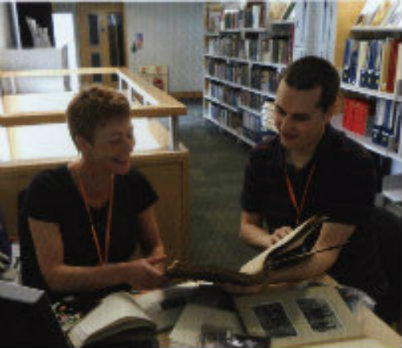 Katherine Cole and Darryl Moody of Local Studies
(Pic courtesy SWINDON HERITAGE)
Recent visitors to Swindon Central Library in Regent Circus will be aware that, in addition to holding on microfilm every issue of the Swindon Advertiser ever published, the Local Studies collection has now started to include the Saturday night edition of the paper - the Football Pink.
This was first published when Swindon Town joined the Football League ranks in 1920 and continued, apart from the War years, until late in 1978 - when industrial action by journalists effectively 'killed off' its production.
Various reincarnations have appeared spasmodically since then, but the genre has now all but disappeared from the newsstands nationwide, not just locally.
The 'Pink Project' began when the Local Studies team arranged to microfilm a batch of papers from the late 1960's and early 1970's, acquired from the former Collectors Corner in Kingshill Road.
Following this, Local Studies Lead Darryl Moody showed great enthusiasm to extend the range covered.
"This was a major gap in the Local Studies collection. Frustratingly the Football Pink was one of the most asked-for published resource and, sadly, one that we simply did not hold."
In order to expand the collection, two major sources of Pinks were still available - at the Advertiser itself and at the British Library, then based at Colindale in north London. But neither had a complete run of issues, particularly covering the early post-War years.
Wiltshire Newsquest, the group which now owns the Swindon Advertiser, kindly consented to their bound volumes of the Pinks being loaned out for microfilming. Those for 1929 to 1939 and 1957 to 1978 have now been completed.
Pinks for 1926 to 1928 are held by the British Library at their Boston Spa depository, but few of the earlier copies have survived and it is therefore unlikely that these will become available for processing.
But that still left the post-War period from 1946 to 1956 - which neither the Advertiser nor the BL hold substantial copies for. Luckily a near complete private collection for this era became available fairly recently - and I am delighted to say it was secured and microfilming of these years was completed late in 2015. !
So, whether you are interested in a local club in or around the town, or a family member who played locally, a visit to the Library could prove well worthwhile.



You will find Local Studies at : Swindon Central Library, Regent Circus, Swindon SN1 1QG
Tel: (01793) 463238
e-mail : localstudies@swindon.gov.uk
or on-line at : www.swindon.gov.uk/localstudies
Opening hours are Mon, Tue & Wed: 10:00am - 4:00pm, Sat: 10:00am - 1.30pm.


PAUL PLOWMAN (January 2016)