WELCOME... TO THE SITE THAT IS DEDICATED TO THE SWINDON TOWN OF OLD!
ON SALE HERE NOW !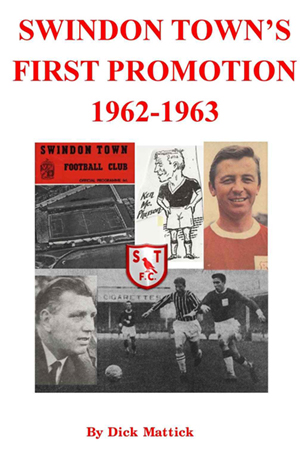 He's back !

A new book by Dick Mattick - his first in nearly two decades - is now available right here.

Dick throws the spotlight on Town's first ever promotion almost 60 years ago.

We are taken back to a time when football was a very different game, when there were no names on shirts, no sponsors on shirts, no squad numbers, no substitutes, no play-offs, no red or yellow cards and of course no VAR !

A fascinating read, the book is also a social history - logging noteworthy events away from the County Ground during a harsh winter when almost everything came to a halt beneath volumes of snow that had not been witnessed for fifteen years.

Complementing the text is a generous selection of pictures that include many action shots reproduced from the late lamented Football Pink.

Profits from the sale of this book are being given to charities that include 'Head4Change'. Amongst the co-founders of this organisation are Dr Judith Gates and Dr Sally Tucker - respectively the wife and daughter of former Middlesbrough player Bill Gates and ex-Town defender Billy Tucker - who are both now sadly suffering with dementia.

The book is priced at £12.50 and we will send it post free to any UK address.






STILL AVAILABLE……..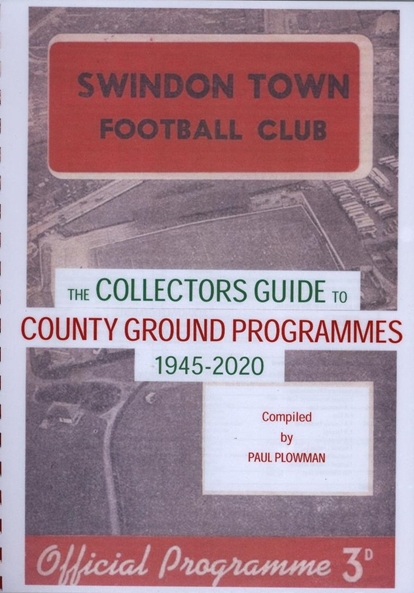 Having seen a significant 'pause' in matchday programmes coming out of the County Ground for most of 2020, there has never been a better time to take stock of what has gone on before print resumed in August 2021 .
The Collectors Guide to County Ground Programmes 1945 to 2020 lists all known post-War first team issues for Swindon Town that includes friendlies, postponed fixtures, testimonial and charity matches. The format used for each season - size, price and number of pages (from four in 1945 to 88 in 2020) is also listed.
Apart from STFC games there were cup replays where the venue was deemed 'neutral' and various internationals - for both men's and women's football.
Finally, some quirky facts can be found amongst its pages, including the reserve team player who was mistaken for Don Rogers !
This publication has a comb binding - so that it lies flat while listings are checked.
AVAILABLE NOW at £4.95 (postage and packing free to UK addresses)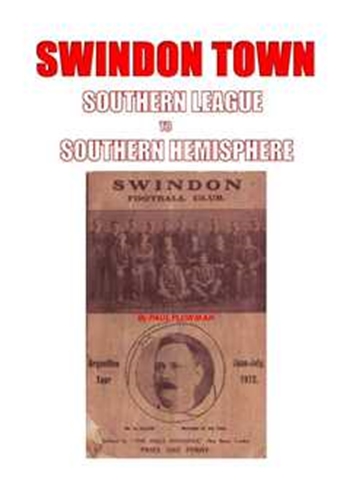 We now travel back 110 years to the summer of 1912 when the club went on an adventure to South America - a continent where few British clubs had travelled to before.
In this book secretary-manager SAM ALLEN tells the story of their journey by ship to Buenos Aires and pens his thoughts on each of the eight games played while on tour - during which they remained undefeated.
Also included are full match reports, biographies of the players who took part - along with previously unpublished pictures and even their autographs !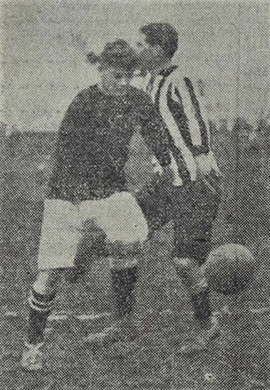 Jack Burkinshaw side steps Max Susan during a comprehensive 4-0 win over Estudiantes

Order your copy now from our Shop - the price of £5.95 includes postage and packing to UK addresses.


…….. AND DON'T FORGET THIS ONE !
This book is a tribute to over 1,200 players who have donned the Swindon Town shirt for a first team fixture since the club signed on its first professionals in the spring of 1895.

Whether it was a last minute appearance as a substitute in the case of Alex Meechan or the mammoth career of 889 games by John Trollope - everyone (up to the 2015 close season) can be found in the book.

Unlike the players of today, at the turn of the 20th century, they had to supplement their wage by finding other work - many at the huge Great Western Railway factory complex.
Other occupations ranged from a reverend to a road sweeper - and life after football was far removed from that enjoyed by their modern day counterparts. One died in a workhouse, one in an asylum, while two others committed suicide. Another two were killed by a tornado and a typhoon respectively - the first being the weather phenomenon, the other 'friendly fire' from a bomber during the last War. The ex-Town ranks also include the first manager of Burton Albion, the last landlord of the pub in Imber village and one who claimed to be a biological son of Adolf Hitler !

The book runs to 336 A4-size pages and - of the 1,200+ players included up to the end of 2014/15 - not only does it provide a football career record, but a life record for many of the 600 or so who are no longer with us.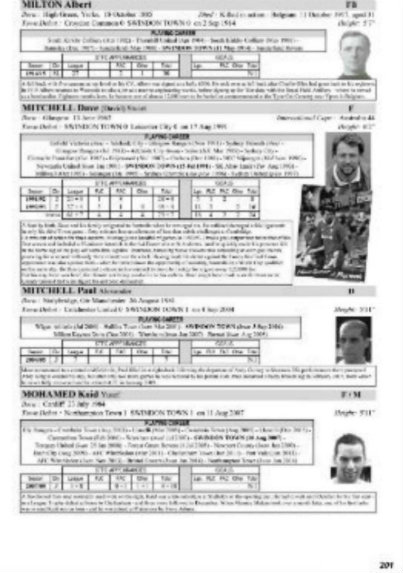 It is available now at £14.95 from our Shop
Price includes UK postage and packing.
BUT HOW DO WE THINK IT ALL STARTED FOR SWINDON TOWN ?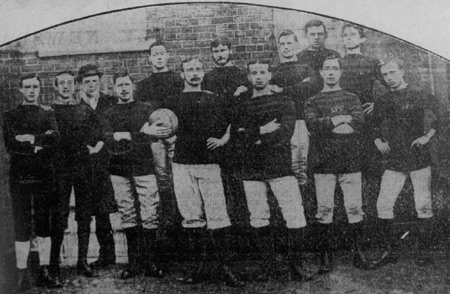 This splendid team picture of the Swindon F C squad was believed to have been taken during the inaugural season of 1879-1880. William Pitt is seen holding the ball alongside Jimmy Vowles, Jack Povey, Billy Keylock (on the left) and Jack Cook, Billy Cowley and Alf Cockbill (on the right). Behind them are Tom Hancock - with the hat, acting as 'umpire', Charlie Few (just 15 years old !) Charlie Humphries, Billy Woolford, Tom White and Billy Stroud.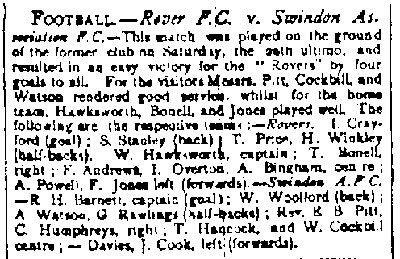 However, the head of Tom White was clearly superimposed on the original image at a later date and further research by Alan Harding has revealed that this squad of players were not all with the club until the 1881/82 season !

Match reports for the early years were very sporadic with the one for the first ever game on 29 November 1879 taking two weeks to appear in the Swindon Advertiser - and then listing only ten names in the new club's line-up ! Wiltshire was still in the grip of rugby at that time and there seemed to be little interest in the 'round ball' game.

On that November afternoon, Pitt's men called upon the services of 'cockney' Dick Barnett to keep goal. But he was powerless to prevent a 4-0 defeat, which may or may not have been due to the fledgling Swindon side being a man short !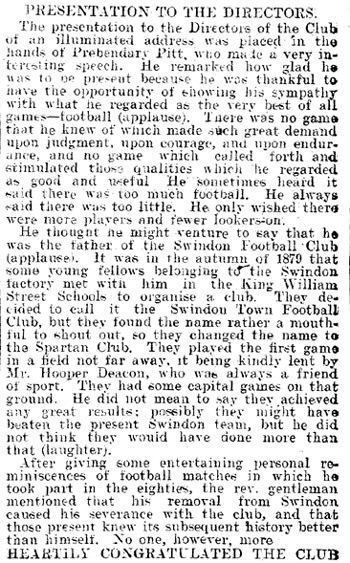 William Pitt was then 23 and the curate of Swindon Christ Church, lodging in Belle Vue Road with the family of Frederick Osman – a grocer. But in 1881, Reverend Pitt was appointed rector of Liddington and, with no cars or public transport in those days, moved out of Swindon and thus very soon ceased his playing career with the football club.
This was confirmed some thirty years later – in September 1911 - when he was invited to give an after-dinner speech as the Town celebrated winning the Southern League Championship for the first time……………
'……………..the presentation to the directors of the club of an illuminated address was placed in the hands of Prebendary Pitt, who made a very interesting speech....
He thought he might venture to say that he was the father of the Swindon Football Club. It was in the autumn of 1879 that some young fellows belonging to the Swindon (railway) factory met with him in the King William Street school to organise a club...'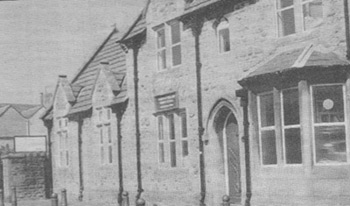 '...They decided to call it the Swindon Association Football Club, but they found the name rather a mouthful to shout out, so they changed the name to the Spartans. They played the first game on a field not far away - opposite The Wharf - it being kindly lent by Mr Hooper Deacon, who was always a friend of sport.....'


'After giving some entertaining reminiscences of football matches in which he took part, the reverend gentleman mentioned that his removal from Swindon caused his severance with the club…………'
So Swindon Town was founded in 1879 as Swindon AFC, although they did not adopt the present title until 1883 - after Reverend Pitt had left the town.
…AND WHEN PRECISELY DID TOWN BECOME A PROFESSIONAL CLUB ?
There have been conflicting reports down the years as to exactly when Swindon Town turned professional.
One theory is that it was in 1894, when they joined the Southern League. Another cites it as being in the 1895 close season, when the club switched its headquarters to the County Ground.
But, in truth, it was neither.
While the Football League declined to accept amateur clubs in its ranks, the Southern League did not - at least at first. In January 1895 they changed their minds ! A resolution was passed 'to adopt professionalism on 4 February'. However, this was quickly amended to the date after which the club was knocked out of the Amateur Cup.
Town had been drawn to play the Old Carthusians at the Oval where there was the prospect of a large crowd and a match the club felt they could win. The tie was due to have been played on 2 February 1895, but it was postponed due to a heavy frost, which had left the pitch unplayable. With the tie scheduled to have been completed by 9 February 1895 - the same day that they were scheduled to play a Southern League fixture against Millwall Athletic - the decision was taken to scratch the fixture and Town withdraw from the Amateur Cup.
The club therefore adopted professionalism and began paying their players in February 1895, although a great number of amateurs were still signed on by the club in the pre-First War era.
The identity of the first professional to be engaged by the club has also been the subject of much conjecture. The name of John 'Ginger' Ross has been frequently mentioned - as has that of Jimmy Munro. But, according to the F.A. Minute Book of 1895, the honour actually went to two players who signed professional contracts on 28 February 1895. They were Stratton-born William Griffin and Humphrey James 'Jimmy' Hayward.
(with thanks to ALAN HARDING)